Executive Team [ Sabre West Africa ]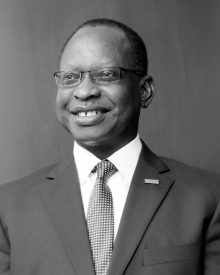 Dr. Gabriel.O. Olowo
FNIM. FITP
PRESIDENT/CEO - Sabre West Africa
President Aviation Safety Round Table Initiative (ART ), Chairman InterGuide Group
Trustee Ikeja Golf Club
Dr. Gabriel O. OLOWO is an Economist and Business Administrator with uninterrupted cognate experience in Aviation dating back to 1973.
He has attended several professional training courses and served on several expert groups, committees, and panels including the Ministerial Committee on Restructuring of Nigeria Airways Limited in September 2001, Ministerial Technical Committee on the Establishment of a new Flag Carrier in August 2003, Chairman of the Agency Investigation Panel (A.I.P) for Western Africa, and Member of Ecowas Parliament Committee on Implementation of Yammousoukro Treaty.
Gabriel started his aviation career as a Management Trainee with Lufthansa German Airlines in 1973. He worked consistently in the aviation industry since then, serving at various capacities such as Assistant Manager with Lufthansa German Airlines, Deputy General Manager with Varig Brazilian Airline.
Executive Director with Bellview Airlines Limited ( A leading private airline in Nigeria) and Country Director of Sabre Network Inc West Africa..... a US leading Technology company for Airlines.
Gabriel's deep and wide aviation industry experience has made him an acknowledged expert in airlines and aviation business management. He has provided varied consultancy services in these areas and is an author of many aviation industry related publications. He's currently the President Aviation Safety Round Table Initiative.
Gabriel is a Fellow of the Nigerian Institute of Management (FNIM) , Member Nigeria/ American Chamber of Commerce, Nigeria-Brazil Chamber of Commerce & Industry and Nigeria/ British Chamber of Commerce.
Gabriel had B. Sc. (Business Administration) Second Class Upper Honours, University of Lagos, Nigeria and M. Sc. Economics (Manpower Planning) University of Lagos, PhD ( Hons ) Business Administration in Samuel Adegboyega University, Edo, Nigeria.